WOMEN'S HEALTH & VISION SYMPOSIUM HAS BEEN POSTPONED.
PBT was looking forward to the event on Thurs, Sept 16, but due to uncontrollable circumstances, has postponed the Women's Health & Vision Symposium for December 2. We apologize for any inconvenience, but look forward to an even better event in December.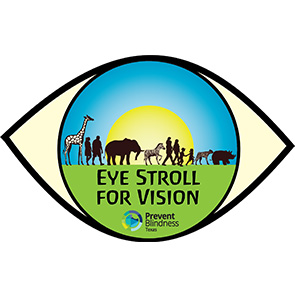 11th Annual Houston Eye Stroll for Vision
Date: November 20, 2021
Location: Houston Zoo 6200 Hermann Park Dr, Houston, TX 77030
Click here to learn more.
Women's Health and Vision Symposium
Date: December 2, 2021
Location: Houston Health Museum 1515 Hermann Dr, Houston, TX 77004
Click here to learn more.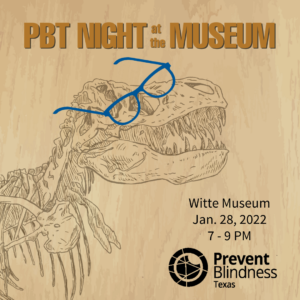 Prevent Blindness Texas – Night at the Museum
Date: January 28, 2022
Location: Witte Museum 3801 Broadway, San Antonio, TX 78209
Click here to learn more.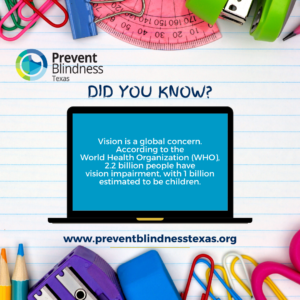 Vision is a global concern. According to the World Health Organization (WHO), 2.2 billion people have vision impairment, with 1 billion estimated to be children (The Children's Vision and Eye Health: A Snapshot of Current National Issues 2nd Edition). The current challenges of health inequities, Covid-19, and missed vision screenings this past school year create an urgent need for organizations such as Prevent Blindness Texas to respond and ensure individuals, especially children, have access to quality eye care and education. PBT programs identify gaps in vision care access and provide accessibility to comprehensive follow-up eye care services aimed at preventing vision loss and increasing opportunity for better eye health overall.
We know vision plays a crucial role in a child's physical, cognitive, and social development. Uncorrected vision problems can interfere with learning and even lead to permanent vision loss; early detection and treatment make a difference. Read more